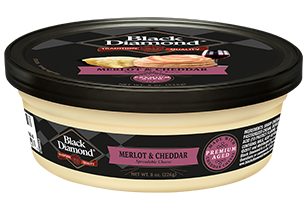 Merlot & Cheddar
Spreadable cheese made with premium aged cheddar cheese.
Merlot & Cheddar
placeholder
Taste:
Made with premium aged Black Diamond Cheddar, our Merlot & Cheddar spreadable cheese has a full, rich classic cheddar flavor with the characteristically deep, slightly bitter taste of Merlot red wine.
Usage:
Spread on sandwiches to add a special twist to your snack. Perfect for entertaining on dips, crackers or toasted baguette slices, served with a thin slice of apple. Pairs well with full bodied red wine such as Cabernet Sauvignon.